Description
maxpro GOURMET is an ultra-premium and absolutely delicious protein supplement to help you build muscle, train harder and recover faster.
maxpro GOURMET was developed to supply your body with pure, nutritionally complete and the highest quality whey and milk proteins to be used on a daily basis as an integral part of your fitness, training and lifestyle program. It makes an absolutely delicious and satisfying protein shake. Extremely versatile,
maxpro GOURMET is ideal for both women and men and ideal to be used before, during or after workouts or anytime during the day for a deliciously satisfying protein shake. †
maxpro GOURMET delivers 27 grams of high-quality protein per serving to supplement a diet. The proteins in maxpro GOURMET come from both whey protein concentrate and whole milk solids. The whey protein concentrate is gently processed and derived from temperature-controlled, ultra-filtration and enzyme hydrolyzation extraction methods from cow's milk. Research suggests that "pulse feeding" or supplying the body with high-quality protein every 3 to 4 hours, is the ideal nutrient timing strategy to elevate plasma amino acid and nitrogen levels. This allows the body to stimulate muscle protein synthesis and support muscle repair. Research has also shown that this anabolic effect is significantly enhanced when combined with resistance exercise. Additionally, supplementation with protein 30 minutes before and 30 minutes immediately after strength training results in greater increases in lean body mass, strength, and muscle size beyond that achieved by strength training alone. †
maxpro GOURMET provides 4 grams of beneficial dietary fiber per serving. Often lacking in the American diet, dietary fiber provides a myriad of health benefits. Dietary fiber maintains the health of the digestive tract, provides a natural feeling of fullness for weight management, promotes healthy cholesterol levels in addition to other health benefits. †
Directions
In a shaker cup or blender, add 1 scoop to 8-10 ounces of water or your favorite drink. For every additional scoop, add 4 ounces of water or liquid. Vary the amount of liquid to achieve your desired consistency.
Other Info
This product is intended for use as a food supplement only. Not a sole source of nutrition. KEEP OUT OF REACH OF CHILDREN. STORE IN A COOL, DRY PLACE AWAY FROM MOISTURE AND SUNLIGHT. ALWAYS KEEP TIGHTLY SEALED.
Other Ingredients:
(Chocolate Cookie Crunch): Whey Protein Concentrate, Fructose, Whole Milk Solids, Chocolate Cookie Crumbs, Natural and Artificial Flavors, Cellulose Gum, Sodium Chloride, Sucralose.
(Cookies 'n Cream): Whey Protein Concentrate, Fructose, Whole Milk Solids, Natural and Artificial Flavors, Chocolate Cookie Crumbs, Cellulose Gum, Sodium Chloride, Sucralose.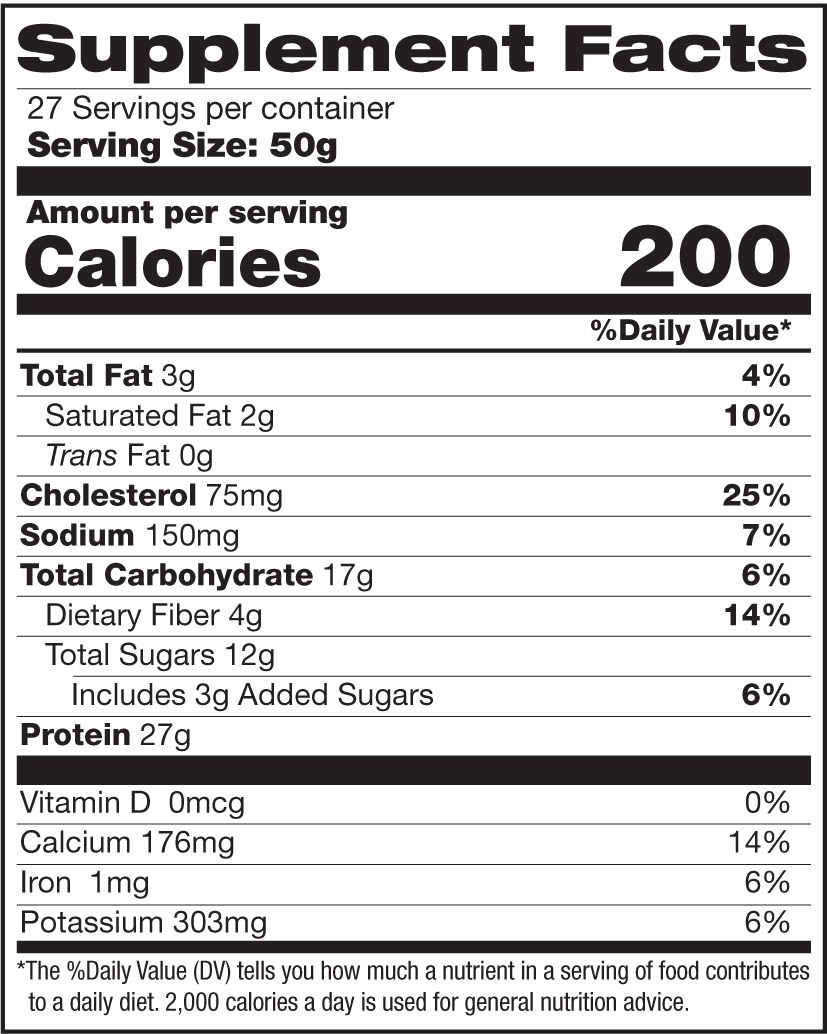 Disclaimers & Warnings
Consult a physician before starting any diet and exercise program and before using this product if you are pregnant, nursing, taking medication, under 18 years of age of having a medical condition. Do not use this product for weight reduction. Very low-calorie protein diets (below 400 calories per day) may cause serious illness or death.

† These statements have not been evaluated by the Food and Drug Administration. This product is not intended to diagnose, treat, cure, or prevent any disease.
Customer Reviews
Customer Reviews
08/28/2020
Randy M.
United States
Maxpro Gourmet
I've used this as part of my breakfast smoothie and find it gives me exactly what i want and need!
07/24/2020
Mike .
United States
Quality protein
Great taste quality protein source. seems to help my strength.