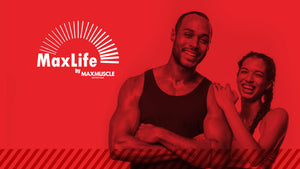 What is MaxLife by Max Muscle?
If you have a passion for a fit, healthy lifestyle, you're in the right place. You're invited to join a community of like-minded, motivated goal-getters so you can achieve bigger, better dreams together.
Max Muscle wants to support you in your goals — from health and fitness, to growing your brand, to seeing some gains in your wallet, too. As nutrition experts, we're passionate about helping you grow your nutritional health knowledge so you can become an expert, too!
Let's boost each other toward our dreams by doing what we love — TOGETHER! That's what this program is all about.
Benefits of joining
- Free product vouchers
- Personal discount code
- Earn Commission
- Regular features on our social
- Free products for content creation
- Free vouchers for giveaways
We're looking for...
- A lover of fitness and a healthy lifestyle
- A passion for content creation
- Over 1k followers on Instagram
- 18 years or older